Hi there! I'm Dorothy and I planted my first blueberry bush in Minnesota in 1999. By 2005 I had a blueberry farm with 600 blueberry plants that were producing about 300 pounds each week from mid-July through late August. That's a whole lot of blueberries!!
We grow a few other specialty crops at our small farm (heirloom tomatoes and chile peppers), but blueberries are what we are known for at the twin-cities farmers' markets.
The farmers markets allowed me to get up close and personal with people that just wanted to grow a few blueberries but were intimidated by what they had heard about them being so hard to grow.
That experience with the public has helped me understand what holds people back from growing these delectable, healthy gems and I hope I can share my experience in a way that helps you enjoy both growing and cooking blueberries.
This is a new site (in 2023) so there are only a few posts, but I intend to add to it quickly, covering things like:
How to grow blueberries in pots
What is the best variety to grow in each zone?
Favorite blueberry desserts
Cooking savory dishes with blueberries
Landscaping with blueberries
Troubleshooting Problems (disease or pests)
Preserving blueberries for the pantry
What else? Let me know in the comments below if you have anything at all around blueberries that you would like to know more about.
Stay tuned…..blueberry season is just around the corner!
Meet The Team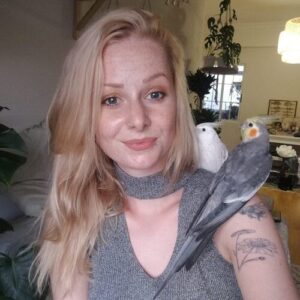 Writer
Mari (Marijke) Puts, writer and researcher extraordinaire, is from the Netherlands but has been calling Spain her home for the past 4 years. She has taken over many of the gardening posts and is adding a European influence some of the newer recipes (see the poffertjes recipe for a good example). You'll be seeing more and more articles from Mari on Farm to Jar, but you can also reach her individually on LinkedIn.
Web Developer
Susan Metoxen is a PHP/mySQL, and WordPress developer (and so much more). Susan has been the solid go-to person for any technical website problems. In addition to her work for Farm to Jar, Susan is an adjunct instructor at Saint Paul College in the Computer Science Department. Her focus is on website education, and you can see her curriculum and blog at WebDevStudents.com. Susan has 30 years of experience in healthcare administration and an M.B.A. from the University of St. Thomas.
Farm Manager
Dustin Nelson comes from a Iowa farming background and in 2021 he signed on with Farm to Jar as the farm manager I always wanted. Dustin has become indispensable to the business as he has not only taken over much of the farm work, but has also stepped into the market sales and the preserve making in the commercial kitchen. Having Dustin has made my life sooo much better, and I can now devote more time to sharing recipes and visiting my kids!